Fleur East Collection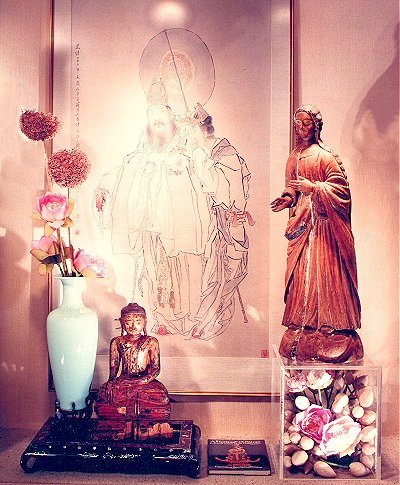 Oriental Vignette
A vignette in my gallery in Hong Kong shows a tall arrangement of dry alliums with silk lotus flowers in a Chinese style ceramic vase. The height of the simple arrangement balances the height of the Philippine santo on top of an acyrilic box filled with silk lotuses.
Architectural Floral Arrangements
To the oriental mind, plants and flowers symbolize nature, life and growth. They are conducive in nourishing the ch'i of any room. As such, they are considered good for feng shui.
Flower arrangements can add the finishing touch to and strengthen the impact of any room. As a design element, they are used to create a statement, inject a mood, soften an ambiance, or highlight and balance the other elements in a room. They are refinements, a crucial detail in enlivening a space. Appropriateness, scale, color and texture are some important design elements to consider in the use of floral arrangements. I call my floral compositions "architectural arrangements" because they have both aesthetics and function in relation to interior design. They are not irrelevant or superfluous decorations in a space.
Invariably, completed interior design work does not look complete without some flower arrangements. But maintaining fresh floral arragements particularly large ones, are impractical if not expensive. This realization encouraged me to use handwrapped silk flowers as a viable alternative. Lately, I have been exploiting dried or preserved materials in creating uncommon arrangements.